<! -------------- TEXTE CONTENU TRIP ------------------->
The TransAlps Les Carroz to Chamonix is a week of what mountain bikers dream about...


A complete week of 'alpine adventure' on two wheels. The perfect mix of epic mountain biking trails, breathtaking scenery and authentic alpine exploration.

After the days riding you will return to a pretty alpine chalet hotel " Les Airelles" in the mountain village of Les Carroz in the Grand Massif and taste the delights of savoyard cuisine, relax on a sunny balcony with a beer surrounded by mountains and countryside with the relaxing sound of a mountain stream to lull you to sleep, adding to the idyllic village location. You will also experience a night in a remote lakeside mountain refuge.

You will have endless rides from high altitude cols to the valley floor, and not only will you ride between Les Carroz and Chamonix you will also ride the wonders to be had in Morzine, Les Gets, Portes du Soleil, Grand Massif, the Chamonix valley and Megeve !


What else could you dream about ?
<! -------- ARRIVAL ------------------->
The Schedule: arrival on Saturday

DAY of arrival (Saturday):'Meet and great' by ourselves at Geneva airport and transfer to Les Carroz. or meet in Les Carroz. Deposit baggage at Chalet Hotel " Les Airelles"our base camp in Les Carroz.

Unpacking and preparation of bikes.
<! -------- DAY 01 ------------------->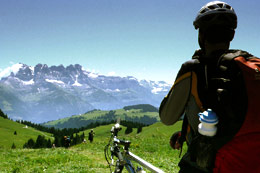 DAY 1 (Sunday): We will start the week with a warm up, riding and discovering the Grand Massif area. We will explore this little known ski area and ride on the trails of Les Carroz, Samoens and Morillon. For the brave, they can try the permenant down hill tracks of Les Carroz and Morillon. The trails are varying, double track, technical tracks, through open pastures, all with a beautifull view over the Arve and Giffre river valleys.
Ride distance: 40km
Uneven positive: 300m Uneven negative: 1200m
Physical difficulty: 2/5 Technical skills: 3/5
<! -------- DAY 02 ------------------->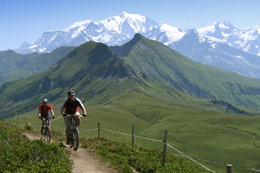 DAY 2 (Monday): Departing from Morzine considered as the 'Mountain Bike Mecca' of Europe we will make a grand tour of the Portes du Soleil, the largest ski area in the world, with over 650km of slopes! We will cross the Swiss border to ride in the villages of Morgins, Champoussin and Crosets. We will pass underneath the 'Dents du Midi' mountain range surrounded by a fantastic environment of glaciers and high mountain peaks. A great day of mountain biking awaits you...
Ride distance: 52km
Uneven positive: 200m Uneven negative: 2100m
Physical difficulty: 2/5 Technical skills: 3/5
<! -------- DAY 03 ------------------->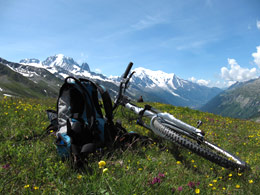 DAY 3 (Tuesday):The start of our TransAlps adventure to Chamonix. We will ride to Flaine and take the skilift up to 2500m. From the top of Flaine the views are spectacular of Mont Blanc and the surrounding mountains, where on a clear day it is possible to see 200km south over the Alps. After a brilliant 1000metre descent, we will sleep in the quaint, remote lakside mountain refuge at Lac de Gers.

Refuge de Gers has running water, toilets and hot showers. Rooms are shared between 4/6 people. The dinner will provide tastes of the local Savoyard cuisine, with glimpses of chamois and marmottes adding to the rustic mountain experience.
Ride distance: 25km
Uneven positive: 200m Uneven negative: 1000m
Physical difficulty: 2/5 Technical skills: 3/5
<! -------- DAY 04 ------------------->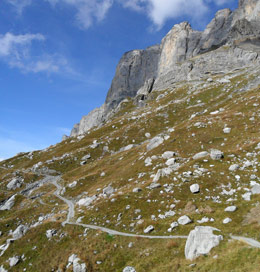 DAY 4 (Wednesday): A long and difficult day! First we descend to the village of Sixt Fer a Cheval at 750m, then we will climb to Col d'Anterne at 2257m, most of this climb is unrideable !
<
The first section of the climb is rideable, then there is no choice but to push/carry bikes to the Lac d'Anterne then on to Col d'Anterne ! The reward... is a 1600m descent to Le Fayet where we will take the Tramway du Mont- Blanc to Col de Voza at 1650m then descend to the village of Les Houches via a technical singletrack and end the day in Chamonix...
Ride distance: 45km
Uneven positive: 1500m Uneven negative:152200m
Physical difficulty: 4/5 Technical skills: 3/5
<! -------- DAY 05 ------------------->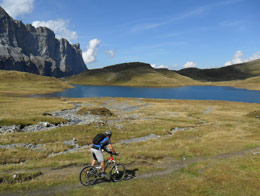 DAY 5 (Thursday): Riding in the legendary area of Chamonix under the 'Lord of the Alps', the Mont Blanc, is a dream destination for many mountain bikers. We will realize this dream by crossing the valley with the aid of the lift at Le Tour via Flegere, providing our descent into the valley of Vallorcine on a beautiful singletrack which slaloms under the larch trees.

With this exceptional landscape and the varying trails, it will satisfy the hungriest of mountain bike riders. Some time after the days ride can be spent visiting Chamonix to absorb the historic alpine mountain ambiance and gaze up at the Mont Blanc as you meander through the streets or sit and drink a well deserved beer, you can't help but be in awe.
Ride distance: 42km
Uneven positive: 300m Uneven negative:151100m
Physical difficulty: 2/5 Technical skills: 3/5
<! -------- DAY 06 ------------------->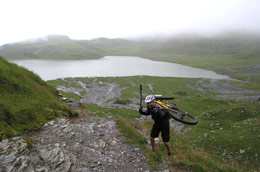 DAY 6 (Friday): Departing from the exclusive French ski resort village of Megeve we will ride the area known as the 'Green Diamond', nestled between the spectacular scenery of the Mont Blanc and Aravis mountain ranges. Little known and uncrowed, this spot is a real jewel! Imagine 90km of trails and 2800m of uneven negative just waiting to be ridden. That is a great way to end the ultimate week of mountain biking...
Ride distance: 42km
Uneven positive: 300m Uneven negative:151100m
Physical difficulty: 2/5 Technical skills: 3/5
<! -------- DAY 07 ------------------->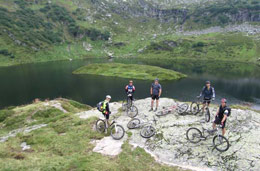 DAY 7 (Saturday): Transfer to Geneva airport.
<! -------- NB ------------------->
NB: this tour is run with a minimum of 4 clients. Lunches on Saturday of arrival and Saturday of departure are not included, but can be arranged at an additional cost.
<! -------------- FIN TEXTE CONTENU TRIP -------------------> <! -- ZoneTable DATES ETC....-->
Price

Lift assisted option: From 1595 €
*Half lift assisted option: From 1395 €
BOOK THIS TRIP !

*Due to late season dates certain lifts are no longer available therefore demanding a higher fitness level for the assents!

<! ------------------- ------------ DATES ------------------------->
Dates 2019

From July 6th to 13th

From July 13th to 20th

From July 20th to 27th

From July 27th to August 3rd

From August 3rd to 10th

From August 10th to 17th

From August 17th to 24th

From August 24th to 31st

<! ------------------- ------------ FIN DATES ------------------------->

Level
MORE INFOS

Physical Fitness: 4/5Long and though "hike a bike section" or more than 2 hours on day 4 !! Technical Skills: 3/5 to 4/5

Distance
250 km
Ascent
3300 m
Descent
8000 m
Duration
8 days: arrival on saturday , departure on saturday
7 nights accomodation
6 days riding
Saturday to Saturday
Terrain

FAll kinds of trails!
Cruisy 2 path trails
From easy to very technical singletracks (some very technical) 'rocky and rooty' trails.
Several hike a bike sections

Location

Morzine, Les Gets, Portes du Soleil, Grand Massif, Chamonix and La Clusaz

Lodging

5 nights accommodation in Chalet hotel "Les Airelles" in

"les Carroz"

alpine resort 1 night in remote Mountain Refuge, Lac de Gers 1 night in Chalet/Bunk house, Chamonix

Included

ALPSMOUNTAINBIKE cycling jersey

7 nights accommodation

all meals from dinner on Saturday of arrival to breakfast Saturday of departure

picnic lunches

Professional guiding

All the lift passes in all the resort we'll visit

return transfer to Geneva airport on Saturday of arrival/departure

Not Included

Flights/Travel etc

Expenses of repair and maintenance of bikes

Cancellation/medical insurances and repatriation costs

Bike hire

Alcohol and extra drinks

All that is not included/understood in the heading 'Included'.
<! -- / ZoneTable -->