<! -------------- TEXTE CONTENU TRIP ------------------->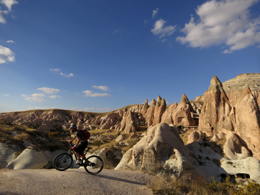 A very unique mountain biking holiday in Turkey , Cappadocia and the wild Taurus mountains.

Ride in one of the most amazing place on Earth! This is a dream tour for those who like to ride on technical alpine trails and discover breathtaking scenery.
Turkey Cappadocia offers a fun and exceptionally varied terrain for mountain biking: plateaus, canyons and rocky labyrinths. This tour takes you along a wide network of 4x4 tracks, mule trails and single tracks in the heart of the most beautiful valleys, where erosion has transformed the soft rock into a colourful fairytale like landscape of rock and mineral sculpturesw. Along the way you will also discover the rich history and culture of this ancient melting pot, where the Hittites, Persians and early Christian communities left behind a wealth of original cave dwellings, rock churches and underground cities. During the tour, the picturesque villages of the region will welcome you with wonderful rich cultural encounters with its people and traditions.

Our secret spot : the wild Taurus mountains , situated south of Cappadocia. Here , no tourist, just amazing singletracks and authentic old turkish villages where you " must " stop for a a turkish tea and just enjoy the local ambiance!
<! -------- ARRIVAL ------------------->
The Schedule: arrival Saturday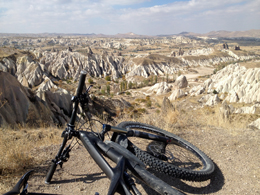 Warning: This itineray is given for your information and may be changed at the discretion of the guide depending on the weather conditions, physical ability of clients and the trail 'options' we decide together.

DAY of arrival (Saturday): ''Meet and great' by ourselves at the airport and transfer ( about 50 mn) to Ushichar in the heart of Cappadocia. Deposit baggage at evening accomodation and visit of the Castle of Uchisar. Unpacking and preparation of bikes.
<! -------- DAY 01 ------------------->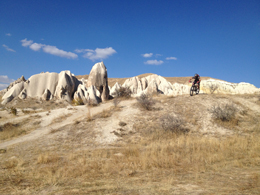 DAY 1 (Sunday): Karan Kemer – Avanos – Saruhan – Urgup – Goreme – Uchisar

Depart in the direction of the Valley Karan Kemer, crossing the valley via single tracks and trails overlooking the spectacular rocky formations of Cappadocia. Cross the Avanos and the Red River to the Saruhan caravanserai. Descend to Goreme passing through Urgup.
Ride distance: 45km
Uneven positive: 1000m Uneven negative: 800m
Physical difficulty: 2/5 Technical skills: 3/5
<! -------- DAY 02 ------------------->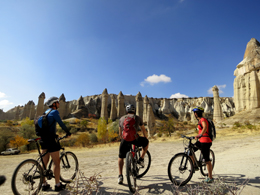 DAY 2 (Monday): Ibrahim Pasha - Hallac Valley – Meskendir

Circular loop around Uchisar and the first spin of our wheels in Cappadocia... A beautiful day of mountain biking getting a taste of the typical single tracks. Here we dive into the world of a fairytale looking landscape, the volcanic rock formations with soft colours ranging from white to light grey to beige, create an ethereal picture.
Ride distance: 40km
Uneven positive: 900m Uneven negative: 900m
Physical difficulty: 2/5 Technical skills: 2/5
<! -------- DAY 03 ------------------->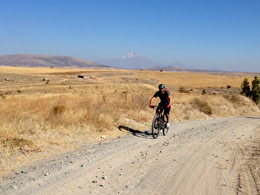 DAY 3 (Tuesday): Pigeon house Valley – White Valley – Red and Rose Valleys – Mustafapasa

The day starts on single tracks from the magnificent canyon of the White Valley, between rock folds and abandoned orchards. We have a short stage through the Baglidere Valley, also known as the Valley of Love due to the phallic sculptural form of the rock formations! We arrive in Cavusin, a troglodyte village carved into the cliff, and contour the Boztepe Mountain, whose rocky folds protect the Red and Rose Valleys, without doubt the most spectacular of Cappadocia. We continue along steep slopes among natural citadels of multicoloured rocks which hide several chapels and even a cathedral nestled into the cliffs. Our route continues on 4x4 tracks through vineyards and orchards to the picturesque village of Urgup, famous for its ancient Greek inspired houses.
Ride distance: 40km
Uneven positive: 900m Uneven negative: 800m
Physical difficulty: 2/5 Technical skills: 3/5
<! -------- DAY 04 ------------------->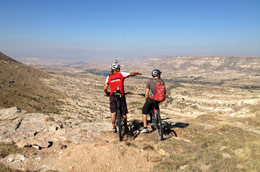 DAY 4 (Wednesday):Avanos – the peaks of Idis Mountain – Taurus Mountain

Our day starts by a climb to the summit of the Idris Mountain (1610m) where a stunning panoramic view awaits us. Descend to Avanos via the peaks of the Idris Mountain. After lunch we head towards the Taurus Mountainand on our way we visit the underground town of Derinkuyu. Dinner and our lodgings for the night are in a local house where we will be warmly hosted by the owners.
Ride distance: 30km
Uneven positive: 500m Uneven negative: 950m
Physical difficulty: 3/5 Technical skills: 3/5
<! -------- DAY 05 ------------------->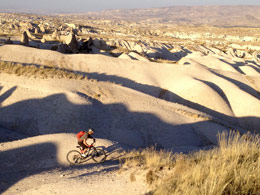 DAY 5 and Day 6 (Thursday and Friday): Ride in Mt Taurus – Yahyali

2 days of single track mountain biking in the foothills of the Taurus Mountain, passing via the Alaca plateau, Emli Valley, Sokullupinar, the Maden plateau, and from Karagol to the end of our ride at Yahyali.
Ride distance: 70km
Uneven positive: 1600m Uneven negative: 1700m
Physical difficulty: 3/5 Technical skills: 3/5
<! -------- DAY 07 ------------------->

DAY 7 (Saturday): Transfer to Kayseri / Nevsehir airport.
*Please make sure to book a late afternoon or evening return flight, due to the transfer time to airport from Yahyali.
<! -------- NB ------------------->
NB: this tour is run with a minimum of 4 clients. Lunches on Saturday of arrival and Saturday of departure are not included, but can be arranged at an additional cost.
<! -------------- FIN TEXTE CONTENU TRIP -------------------> <! -- ZoneTable DATES ETC....-->
Price
<! ------------------- ------------ DATES ------------------------->
Dates 2018

<! ------------------- ------------ FIN DATES ------------------------->

Level
MORE INFOS
Distance
250 km
Ascent
5000 m
Descent
5000 m
Duration
8 days: arrival on saturday , departure on saturday
7 nights accomodation
6 days riding
Saturday to Saturday
Terrain

From easy to technical singletracks 'rocky and rooty' trails.
Several hike a bike sections

Location

Starts in Ushichar Turkey and finishes in Ushichar Turkey

Lodging

7 nights accommodation in a mix of hotels
(based on double occupancy twin bedrooms)

Included

7 nights accommodation

all meals except the evening meals of Day 1 and 7

picnic lunches

Professional guiding

luggage transfer to evening accommodation (when needed)

Airport transfer from Kayseri / Nevsehir airport on Saturday of arrival/departure

Not Included

Flights/Travel etc

Expenses of repair and maintenance of bikes

Cancellation/medical insurances and repatriation costs

Evening on Day 1 and Day 7

Bike hire

Alcohol and extra drinks

All that is not included/understood in the heading 'Included'.
<! -- / ZoneTable -->