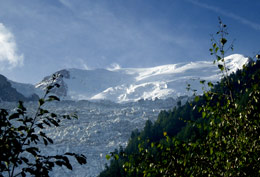 Imagine the 'Ultimate' Mountain Biking holiday…
Traversing the French Alps,starting from the highest peak in Europe, Mont Blanc (4810m), and arriving at the Mediterranean Sea;
650km ride, 20,000 metres of climb and more than 15 alpine cols... Breathtaking scenery, fantastic singletracks, beautiful quaint remote villages, great food, a brilliant ambiance and a swim in the sea!
What else do you need for a biking holiday?

We invite you to join us on this amazing and challenging TransAlps Tour in two stages of 6 days with the final reward... a "plouf" in the big blue at Nice...
Do you want adventure, great Mountain Biking, amazing singletracks and uncrowded places?
Then join us on the TransAlps Chamonix to the Mediterranean Sea!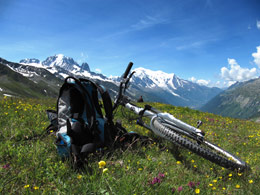 During this first stage, we will start from Chamonix and ride through the Beaufortain, Tarentaise, Maurienne and Cerces areas, which are relatively unknown Mountain Biking areas and continue on to the historic fortified town of Briançon. This itinerary offers fanstastic scenery and great riding giving just a taste of the next stage of the 'TransAlps Tour '.
290 km of 'Ultimate' Mountain Biking adventure awaits you…
Please note:Due to the complexity of organising a multi stage tour, and temperatures too hot to ride it comfortably in high summer, we can only propose two complete TransAlps Chamonix to the sea tours for summer 2011 (two trips of 15 days). The tour can be made as two separate weeks or as a continuous two week tour.
*With a minimum of 4 riders we can propose an additional shedule.
<! -------- ARRIVAL ------------------->
The Schedule: arrival Saturday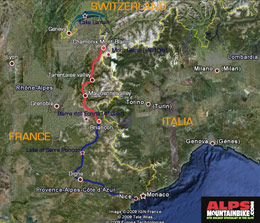 Warning: This itineray is given for your information and may be changed at the discretion of the guide depending on the weather conditions, physical ability of clients and the trail 'options' we decide together.

DAY of arrival (Saturday): 'Meet and great' by ourselves at the airport and transfer to Chamonix. Deposit baggage at evening accomodation with view of Mont Blanc. Unpacking and preparation of bikes. Last minute shopping requirements and possibilty to visit Chamonix town.
<! -------- DAY 01 ------------------->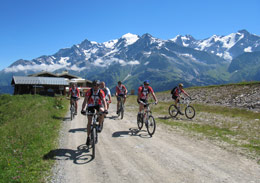 DAY 1 (Sunday): Chamonix to Beaufort
We start under the shadow of Mont Blanc and head towards Les Houches where we take the first ski lift of the day, followed by a nice easy descent to Les Contamines Montjoie to take a second lift to bring us up to the Col du Joly. From here we enter into the Beaufortain area with its large open alpine flowered pastures and splendid singletracks. We pass next to the Lac of Girotte and finish for the day in the village of Beaufort.
Ride distance: 50km
Uneven positive: 1100m Uneven negative: 1800m
Physical difficulty: 3/5 Technical skills: 3/5
<! -------- DAY 02 ------------------->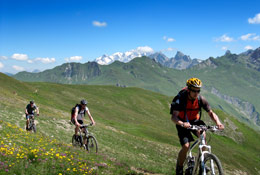 DAY 2 (Monday): Beaufort to the Tarentaise Valley
Our second day in the Beaufortain area will be quite tough. Three cols await us today and 1800m of climb... Amazing alpine ambiance with the Mont Blanc and its glaciers at our backs and the trails passing through lush meadows, with only the cows to great us. The reward for the big climb, is a fantastic downhill descent of 2000m towards the Tarentaise Valley with a mix of technical singletrack, jeep tracks and flowing trails.
A great day of Mountain Biking!
Ride distance: 45km
Uneven positive: 1800m Uneven negative: 2200m
Physical difficulty: 4/5 Technical skills: 3/5
<! -------- DAY 03 ------------------->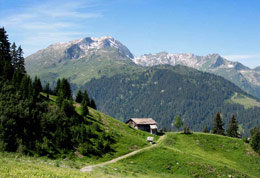 DAY 3 (Tuesday): From the Tarentaise Valley to the Maurienne Valley
Today we will contour the beautiful Vanoise National Parc (unfortunately forbidden to Mountain Bikes) passing by the Col de la Madeleine from where we can see the beautiful glaciers of the Aiguille de Peclet (3561m) Aiguille de Polset (3511m) and the huge Mont Blanc range in the background. We access the Maurienne Valley by another great descent and finish the day in Saint Jean de Maurienne.
Ride distance: 46km
Uneven positive: 1300m Uneven negative: 1600m
Physical difficulty: 3/5 Technical skills: 3/5
<! -------- DAY 04 ------------------->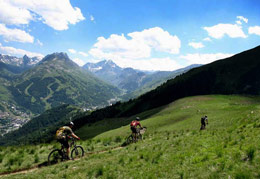 DAY 4 (Wednesday): From Saint Jean de Maurienne to Valloire
Today and tomorrow are going to be mainly ascents to pass into the next valley of Nevache, so that is 3200metres of climb in two days! The day starts with a gentle warm up of 1400m of ascent ;-), a mix of road and jeep tracks with a short 'hike-a-bike' section at the end to reach the ski resort of Karrelys. From here a splendid view over the Maurienne Valley opens up, enabling you to realise the climb you've just made! Then a huge traverse on undulating jeep tracks and singletracks, leading us to the village of Valloire, reknown as a regular route of Le Tour de France.

Ride distance: 45km
Uneven positive: 1900m Uneven negative: 400m
Physical difficulty: 4/5 Technical skills: 3/5
<! -------- DAY 05 ------------------->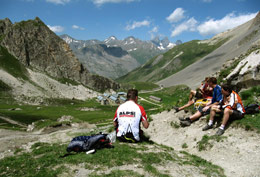 DAY 5 (Thursday): From Valloire to Nevache valley
We will start this splendid ride by climbing the famous road towards the Col du Galibier (one of the most difficult climbs in Le Tour de France). From here we will traverse the alpine range of Mont Thabor (3178m) passing the alpine lakes of Grand Ban and Lac Rond at 2500m, then descend on a technical in places singletrack into the splendid quiet valley of Nevache. A second 600metre climb will bring us up onto a traversing balcony trail above the Nevache Valley for yet another fantastic final singletrack descent of the day to the village of Nevache.
Ride distance: 45km
Uneven positive: 1300m Uneven negative: 1500m
Physical difficulty: 4/5 Technical skills: 3/5
<! -------- DAY 06 ------------------->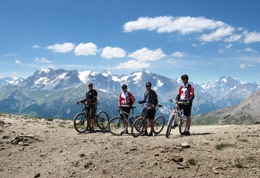 DAY 6 (Friday): The last but by no means the least!
A final climb of 1000metres on a jeep track in the beautiful Granon Valley, allows us to pass into the Briançon Valley, riding almost hanging over the valley side! Finishing with the super amazing 'natural pipe' descent of Bois de l'ours (the wood of the bear) and arriving directly to a bar to order a well deserved beer to finish this first epic stage of the TransAlps Tour - Chamonix to the sea!
Ride distance: 42km
Uneven positive: 1000m Uneven negative: 1500m
Physical difficulty: 3/5 Technical skills: 3/5

Stage 1: Total ride distance: 240km!!


Dismantle and pack bikes ready for departure the following day.
Yes I think a well earned cold beer or two is a definite!
<! -------- DAY 07 ------------------->

DAY 7 (Saturday): Two choices… you stop here or you keep heading South with us for a swim in the Mediterranean Sea in a week's time… If you choose to stop, we can drop you to Briançon train station where you can get a train to Grenoble and on to Grenoble or Geneva airports.

We hope to see you again... To complete the second stage of the TransAlps Tour - Briançon to the sea !
<! -------- NB ------------------->
NB: this tour is run with a minimum of 4 clients. Lunches on Saturday of arrival and Saturday of departure are not included, but can be arranged at an additional cost.
Further accommodation can be arranged if you would like to extend your holiday and stay in the Haute-Alpes area and enjoy the Lake of Serre Ponçon.
<! -------------- FIN TEXTE CONTENU TRIP -------------------> <! -- ZoneTable DATES ETC....-->
Price

Stage one from Chamonix to Briançon: From 1495 €

Complete TransAlps from Chamonix to the Sea: From 1995 €

BOOK THIS TRIP !

<! ------------------- ------------ DATES ------------------------->
Departure
possible

Every Saturday from June 15th to October 12th <! ------------------- ------------ FIN DATES ------------------------->

Level
MORE INFOS
Distance
290 km
Ascent
8800 m
Descent
92000 m
Duration
8 days: arrival on saturday , departure on saturday
7 nights accomodation
6 days riding
Saturday to Saturday
Terrain

All kinds of trails !
Cruisy 2 path trails
From easy to very technical singletracks 'rocky and rooty' trails.
Several short hike a bike sections

Location

Starts in Chamonix France and finishes in Briançon France

Lodging

7 nights accommodation in a mix of hotels (based on double occupancy twin bedrooms)and bunk houses

Included

ALPSMOUNTAINBIKE cycling jersey

7 nights accommodation

all meals from dinner on Saturday of arrival to breakfast Saturday of departure

picnic lunches

Professional guiding

lift passes in Chamonix valley, and les Contamines.

luggage transfer to evening accommodation (inc. mountain refuge)

Not Included

Flights/Travel etc

Expenses of repair and maintenance of bikes

Cancellation/medical insurances and repatriation costs

Bike hire

Alcohol and extra drinks

All that is not included/understood in the heading 'Included'.
<! -- / ZoneTable -->