<! -------------- TEXTE CONTENU TRIP ------------------->
The Haute Route from Chamonix to Zermatt is certainly one of the most famous routes in the Alps. Initially made by alpinists, this itinerary is adapted for Mountain Bikes. Starting under the shadow of the Mont Blanc, Chamonix, France and finishing gazing up at the Matterhorn, Zermatt, Switzerland. This is a dream tour for those who like to ride on technical alpine trails and discover breathtaking scenery.
highlights of the trip:
Special guest Kerstin Kögler, BMC Ride Crew Pilot

BMC Speedfox and Trail Fox bike test during the week

Amazing mountain bike adventure

Awesome alpine singletracks

Mythic rides in Chamonix and Zermatt

Professional guiding and organisation


We offer you the unique opportunity to ride the Haute Route from Chamonix to Zermatt during a special "BMC Fan" tour. Bringing fans of the brand together on an exceptional bike trip in a unique setting.
No matter is if you own a BMC or not, come and participate on a legendary ride in Switzerland with the Matterhorn in line of sight, with the opportunity to test the All Mountain and Enduro range from BMC during your stay and benefit from the advice of "BMC Ride Crew " pilot and coach Kerstin Kögler!!
Kerstin Kögler has been a "BMC Ride Crew" pilot for many years at the heart of the team and organises bike camps and technical coaching for riders of all levels.
Her expert technical advice will allow you to progress in Enduro biking on the demanding trails in the Swiss mountains!!
What better way to share experiences between riders, fans of BMC and a Pro Rider??!!
During the week you will have the possibility to try the BMC Speed ​​Fox and BMC Trail Fox, jewels from the All Mountain and Enduro range from this prestigious Swiss brand in their favourite terrain!

Test the bikes in their natural environment and discover their fabulous biking potential made to take on the toughest Swiss alpine terrain.
The 'Haute Route' from Chamonix to Zermatt, From Mont Blanc to the Matterhorn by Mountain Bike!!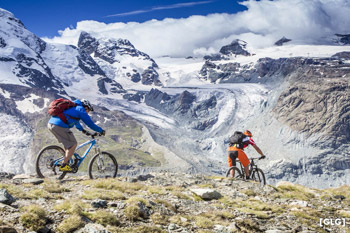 This tour is in the heart of the Alps, surrounded by 4000 of the Swiss Alps. During the tour we will ride through several high alpine passes at an altitude of over 2500m, including Pas de Lona, Basset de Lona and Illsee pass. We will ride the well maintained Swiss singletracks and take the time to appreciate the breathtaking alpine summits and glaciers including Weisshorn, Breithorn, Pigna D'Arolla to name just a few... We will pass through charming old Swiss villages with their narrow streets of wooden chalets draped in colourful abundance with Swiss flags and geraniums and meet the local shepards in the alpine pastures taking care of their "Queens", the famous black fighting cows.
This is more than a bike tour, it is a ride into Swiss alpine culture!
<! -------- ARRIVAL ------------------->
The Schedule: arrival Saturday
Warning: This itineray is given for your information and may be changed at the discretion of the guide depending on the weather conditions, physical ability of clients and the trail 'options' we decide together.

DAY of arrival (Saturday): 'Meet and great' by ourselves at the airport and transfer to Chamonix. Deposit baggage at evening accomodation with view of Mont Blanc. Unpacking and preparation of bikes. Last minute shopping requirements and possibilty to visit Chamonix town.
<! -------- DAY 01 ------------------->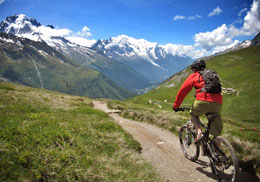 DAY 1 (Sunday):

Ride to Le Tour, at the top of the Chamonix Valley, we will take the gondola to Col de Balme and ride the first technical descent to the village of Trient, Switzerland. Then climb the Col de la Forclaz and descend into the Martigny Valley and with its vineyards. We continue on to Val de Bagne and Verbier by following the contours of the valley via both road and trails, finishing by taking a lift to arrive in the ski resort of Verbier.
Ride distance: 40km
Uneven positive: 1000m Uneven negative: 1500m
Physical difficulty: 2/5 Technical skills: 3/5
<! -------- DAY 02 ------------------->

DAY 2 (Monday):

Starting from Verbier with an amazing views on the Grand Combin and Mont Blanc range and heading towards Evolene following the itinerary of the 'Grand Raid Cristalp race'. We firstly pass the Croix de Coeur pass and descend on a splendid singletrack. The rest of the day provides several climbs and descents, one by lift with the reward of a long descent on a spruce needle covered spongey singletrack... Whaaa! A long final climb (about 1 hour) takes us to the top of Sex Pey, followed by the technical final descent of the day to the quaint Swiss village of Evolene nestled in a narrow valley.
Ride distance: 65km
Uneven positive: 1900m Uneven negative: 2400m
Physical difficulty: 4/5 Technical skills: 3/5
<! -------- DAY 03 ------------------->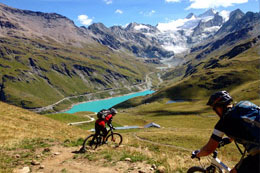 DAY 3 (Tuesday):

Involves the big climb of the two highest passes of this tour, Pas de Lona at 2787m and Basset de Lona at 2792m. We first climb the Pas de Lona on a jeep track, and with a 30mn 'hike-a-bike' section to the top. The ride between Pas de Lona and Basset de Lona is 'swoopy' and the climb of Basset de Lona is rideable to the top. The reward is a long and varied descent passing near the beautiful lake of Moiry and finishing with a nice singletrack to the village of Grimentz.
Ride distance: 45km
Uneven positive: 1900m Uneven negative: 1900m
Physical difficulty: 3/5 Technical skills: 3/5
<! -------- DAY 04 ------------------->

DAY 4 (Wednesday):

An early start for another long day on the bike. We will ride via the Illsee pass at 2544m, from where we can see both the Matterhorn and Mont Blanc with a view of what we have acheived and what there is still to ride... After a short descent, a 30 minute pushing section follows with an epic and well deserved varied downhill descent. This descent is a mix of all the best trails you've ever dreamed about... Fast tracks, swooping and technical sections and tight corners, this is the addictive stuff! Breath easy the climbs are finished and a road/jeep track brings us to a point above Eischol, finishing with an easy downhill for the night, phew!!!
Ride distance: 55km
Uneven positive: 1400m Uneven negative: 2000m
Physical difficulty: 4/5 Technical skills: 3/5
<! -------- DAY 05 ------------------->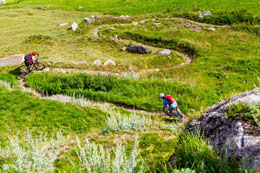 DAY 5 (Thursday):

Change of ambiance today. We will ride on the ridge of the Swiss Rhone Valley and enter into the German speaking area of Switzerland: Achtung! After a warm up on a jeeptrack we will hit a singletrack and finish the climb with a 'hike-a-bike' section to the highest point for the day; the 'Moose pass' at 2048m. The view of the neighbouring peaks is stunning as we stand at the junction of the Zermatt and Saas-Fé Valleys. The descent to Saint Niklaus and the Zermatt Valley is excellent. We use singletracks and large trails and pass through alpine villages barely hanging on the mountain side.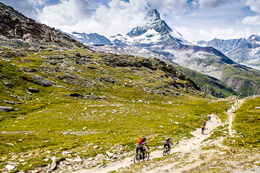 Ride distance: 40km
Uneven positive: 1100m Uneven negative: 1100m
Physical difficulty: 3/5 Technical skills: 3/5
<! -------- DAY 06 ------------------->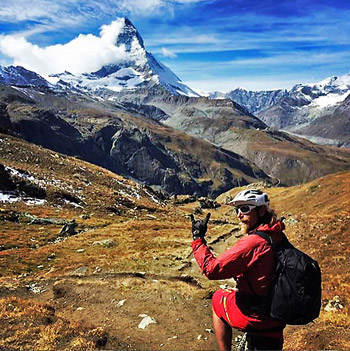 DAY 6 (Friday):

The final day riding will be engraved on your memory forever. From Saint Niklaus we will head to Zermatt using trails and road. We will then ride the terrific trails of the Zermatt Valley... The group has a choice of lift to make the assent. The Gornergrat train to 3016m or the Sunnegga funicular. From both of these lifts the view of the Matterhorn, the Breithorn and the Monte Rosa is just inspiring. The descent down to Zermatt is fantastic and will definitely make your disc brake burn! Riding this tour, is what dreams are made of...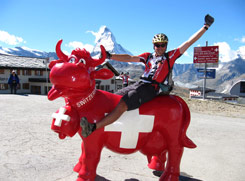 Ride distance: 40km
Uneven positive: 700m Uneven negative: 1800m
Physical difficulty: 3/5 Technical skills: 3/5

Total ride distance: 285km !!!


Dismantle and pack bikes ready for departure the following day.
Yes I think a well earned cold beer or two is a definite!
<! -------- DAY 07 ------------------->

DAY 7 (Saturday):Transfer to Geneva airport.
*Please make sure to book a late afternoon or evening return flight, due to the transfer time to Geneva airport from Zermatt.

<! -------- NB ------------------->
NB: this tour is run with a minimum of 4 clients. Lunches on Saturday of arrival and Saturday of departure are not included, but can be arranged at an additional cost.
<! -------------- FIN TEXTE CONTENU TRIP -------------------> <! -- ZoneTable DATES ETC....-->
Price
<! ------------------- ------------ DATES ------------------------->
Dates 2018

????

<! ------------------- ------------ FIN DATES ------------------------->

Level
MORE INFOS
Distance
280 km
Ascent
8300 m
Descent
11000 m
Duration
8 days: arrival on saturday , departure on saturday
7 nights accomodation
6 days riding
Saturday to Saturday
Terrain

From easy to very technical singletracks (some very technical) 'rocky and rooty' trails.
Several hike a bike sections

Location

Starts in Chamonix France and finishes in Zermatt Switzerland

Lodging

7 nights accommodation in a mix of hotels
(based on double occupancy twin bedrooms)

Included

ALPSMOUNTAINBIKE cycling jersey

7 nights accommodation

all meals from dinner on Saturday of arrival to breakfast Saturday of departure

picnic lunches

Professional guiding

lift passes in Chamonix valley, Verbier, Siviez

luggage transfer to evening accommodation (inc. mountain refuge)

return transfer to Geneva airport on Saturday of arrival/departure

Not Included

Flights/Travel etc

Expenses of repair and maintenance of bikes

Cancellation/medical insurances and repatriation costs

Lifts passes in Zermatt

Bike hire

Alcohol and extra drinks

All that is not included/understood in the heading 'Included'.
<! -- / ZoneTable -->